Fresh takes on new meaning in Martin County Florida, an  easy-to-get-to-area encompassing the communities of Port Salerno, Stuart, Palm City, Jensen Beach, Indiantown, Jupiter Island, Hobe Sound and Hutchinson Island, offering beautiful beaches and 75+ parks – not to mention the most bio-diverse lagoon ecosystem in the Northern Hemisphere, the St. Lucie Inlet, all within two hours or less driving time of four international airports: Palm Beach, Ft. Lauderdale, Miami and Orlando. Here, building restrictions have limited structures to four stories, preserving breathtaking views throughout the county, yielding Old Florida charm accented with Key West style. Sustainable, locally-grown food is the way of life and seaside markets provide ample opportunity to redefine fast food.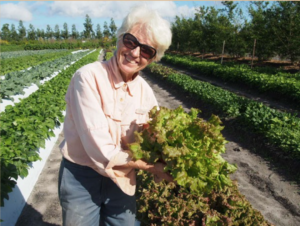 Kai-Kai Farm believes in Community Supported Agriculture and is working towards organic certification. Credit: Kai-Kai Farm
Stuart, the county seat of Martin County, was ranked #3 in the 2015 Annual Best Small Towns to Visit Guide by Smithsonian Magazine, Only in Your State ranked Stuart as one of the 8 Most Beautiful, Charming Small Towns In Florida and the area was also ranked #9 by House Beautiful in The 50 Most Beautiful Small Towns in America.
Kai-Kai Farm
Coastal conjures images of seafood – which Martin County offers plenty of, but what you might not expect to find is a working farm like Carl Frost's Kai-Kai Farm, operating as a local food distributor and offering different produce throughout the year including bananas, lettuce, tomatoes, beans and peas among others as they work towards organic certification. Kai-Kai Farm is a recipient of the Snail of Approval Award given to local food suppliers like farms, restaurants and markets whose food is judged as good, clean and fair. The food is assessed by taste, healthiness, production, distribution and if it is in season and free of additives.
Working on a farm has its ups and downs, but Carl Frost, co-owner of Kai-Kai Farm, says it's worth it. "It's dirty, hot and seven days a week," Frost said. "But we like the open space, the quiet and nature; that makes up for it."
Kai-Kai Farm believes in Community Supported Agriculture  (CSA) giving locals a chance to receive a weekly or bi-weekly produce box over the course of eight weeks for a set cost.
"Our produce is grown a little slower," Frost said. "It's not pumped up with nitrogen."
Frost says supermarkets have their produce shipped in from places like Mexico and Canada, and when produce has to be shipped a long way, it has to be designed to survive the trip. Frost says distance is the biggest difference, but the type of seeds used, freshness and growing practices all separate local from big chain food.
"Numerous times we get feedback about how people make lifestyle changes and improve their health," Frost said.
Kai-Kai Farm helps many, including the owners, live a healthier lifestyle. Frost says his family is not vegetarian and they do frequent the grocery store, but they have established a balance where they include visits to other local growers to fill in the gaps in their own crops.
Frost says there is plenty of room for more growers, and he would love to see more people farming and living out in the country with their families.
Seminole Inn
Another stop on the menu in Martin County is The Seminole Inn, founded in January 1926 as part of the railroad movement to bring food and fish to the northeast. Now, people from all over travel to the Seminole Inn for its famous brunch.
Jonnie Flewelling, the manager of the inn, says every Sunday the Seminole Inn's brunch draws anywhere from 200 to 500 people, with the holiday brunches selling out a month in advance.
Post-brunch, Flewelling can set visitors up with a guide from Okeechobee to embark on a variety of wildlife trips throughout the area, including gator hunting and frog gigging.
In July, the inn began offering sustainable skills classes on Saturdays. Next year, they will start a farmer's market.
Supporting area businesses, the inn buys vegetables locally, sources fish from Lake Okeechobee, raises cattle, makes jams and jellies and prepares their own sausage.
"We make the best fried chicken in the state, bar none," Flewelling said.  He says their sweet potato casserole is also a hit. "If you want great food simply done, come to the Seminole Inn."
Green Market
Shop local at The Stuart Green Market where local produce growers, artisans, cooks, entrepreneurs and other creative people showcase their talents to the community, providing fresh, unique offerings that exist nowhere else.
"We love the feel of an older time in our busy society when people came to meet in public regularly," said Natalie Parkell, the Green Market's manager. "There are not many spots like this in our towns anymore where neighbors can stroll and enjoy outdoors in a marketplace atmosphere."

Find the ultimate souvenir at Martin County's Green Market. Credit: Martin County Office of Tourism and Marketing
The Green Market's vendors sell fresh food, homemade jewelry and tropical apparel, among other items. Parkell and her husband were vegetable farmers and initially vendors at the Green Market.
"It could not be more beautiful with the backdrop of downtown Stuart and the picturesque St. Lucie River," Parkell said. "The whole downtown area is just a charming place to walk and shop and eat and enjoy with friends and family. There is live music every Sunday, fresh sea breezes and pleasant vendors; it is a gem of the community."
Vendors have to go through an application process. They are screened for space availability, appropriateness of product type, whether the market has a need for their type of product line, and their willingness to maintain a professional business in the market.
The Stuart Green Market was where Parkell and her husband were able to grow their small farm as well as friendships with other producers in the community. "I love getting to know the people who are artists, chefs and talented businesspeople," Parkell said. "The creativity within our community is astounding to me, and it is a privilege to highlight these amazing individuals."
Basin Seafood & Fresh Fish Market
Go natural at Basin Seafood & Fresh Fish Market, owned by Donald Plant, formerly a commercial fisherman in New Jersey. The Basin Fresh Fish Market offers wild shrimp, Maine lobsters, Florida lobster tails, king crab, fresh sea and bay scallops, northern steamers and clams – just to name a few treats on the extensive menu. 
"There used to be a lot of fish markets when I started this business," said Plant, who started the market 31 years ago. "Now they're all gone." Plant used his experience to build a thriving business built on fresh food and says his experience is the biggest contributor to getting customers the freshest food. The market keeps a weekly record so Plant knows what to order week by week and waste is limited.

Savor fresh food fast at Basin Seafood & Fresh Fish Market
Plant says his family sells everything fresh and never frozen, smokes fish on the premises and makes their own fish dip and chowders. The market also wholesales to local restaurants and now offers take-out options as well.  Customers have the option to eat freshly prepared seafood mahi sliders, clam strip po'boys and other seafood, in addition to chicken wings and tacos, at the umbrella-covered tables outside the market.
Tara Ornold is Plant's daughter and the manager of the market. "You get to know people on a first name basis," Ornold said.
Plant says people keep coming back because they get a good product. Basin Seafood & Fresh Food Market used to close in the summer, but this year they have stayed open because of customer demand.
Ornold says customers love the family atmosphere; they can hear employees calling each other "Mom" and "Dad."
"I say something and nobody listens," Plant said. "But they do it right because it's family."