Our award-winning "Hidden Turtles" scavenger hunt is officially BACK!
Continuing our partnership with MartinArts and Palm City-based glass artist Dot Galfond of License to Kiln, this year's scavenger hunt will officially begin on Friday, January 27 and conclude on Friday, February 10. You'll have two weeks to hit the Martin County Arts & Culture Trail and find your hidden treasure leading up to ArtsFest 2023 (taking place February 11th and 12th in Gazebo Park).
Dot has created a limited edition collection of 50 signed and numbered glass sea turtle sculptures. In total, there are 10 gold glass sea turtles and 40 green glass sea turtles. The turtles will be hidden at different stops along the Martin County Arts & Culture Trail every day ahead of ArtsFest. They won't all be hidden at once, so your best bet is to go around and appreciate the arts right here in our own backyard!
The Martin County Arts & Culture Trail is a free, mobile-exclusive program that features a range of award-winning museums, celebrated attractions, cutting-edge exhibits, historic sites, eclectic galleries, and engaging selections from the Martin County Art in Public Places program.
Residents and visitors alike can sign up to receive the full trail for free and can use the pass to learn more about these local points of interest. To participate in the scavenger hunt, simply explore the featured attractions along the trail—if you find a turtle, it's yours to keep (along with your prize)!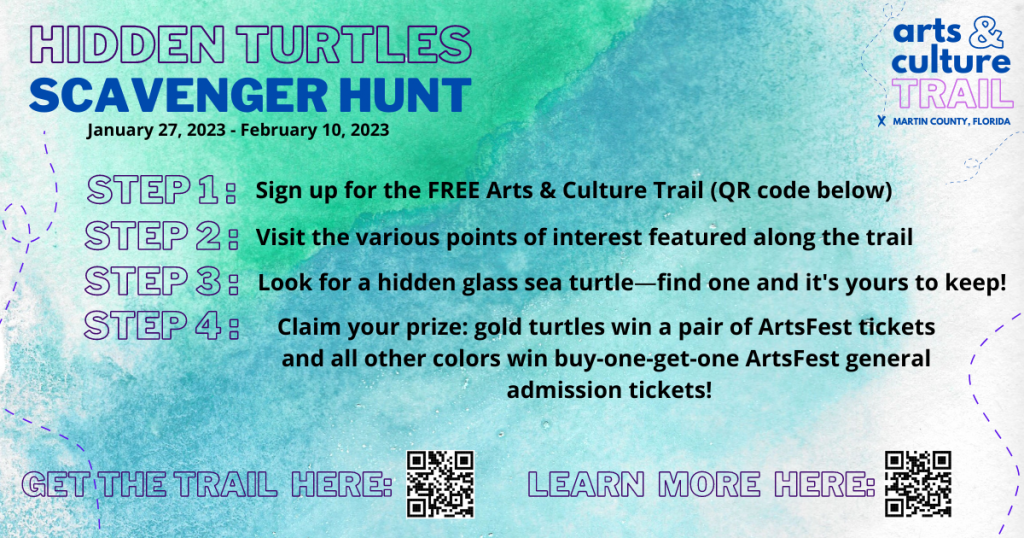 Those who find one of the 10 gold-colored sea turtles will win a pair of complimentary ArtsFest tickets and the prize for the other 40 green sea turtles will be a special "buy one get one" general admission ticket to ArtsFest!
The Martin County Arts & Culture Trail and corresponding Hidden Turtles scavenger hunt has become a beloved tradition, and the program was honored with a 2021 Destiny Award in the "Destination and Product Development" category (organized by the U.S. Travel Association) as well as a Gold Magellan Award in the "Overall Destinations: Cultural/Arts" category (organized by Travel Weekly).
Good luck and happy hunting!