The legacy of "Old Florida" lives on in Martin County, where arts and culture embody the natural beauty of the Sunshine State. Dance, music, visual arts, theatre, culinary arts, and historic preservation are an integral part of the community, with dynamic opportunities to enjoy year-round. Here are some of the can't-miss experiences and attractions for any art aficionado in Martin County.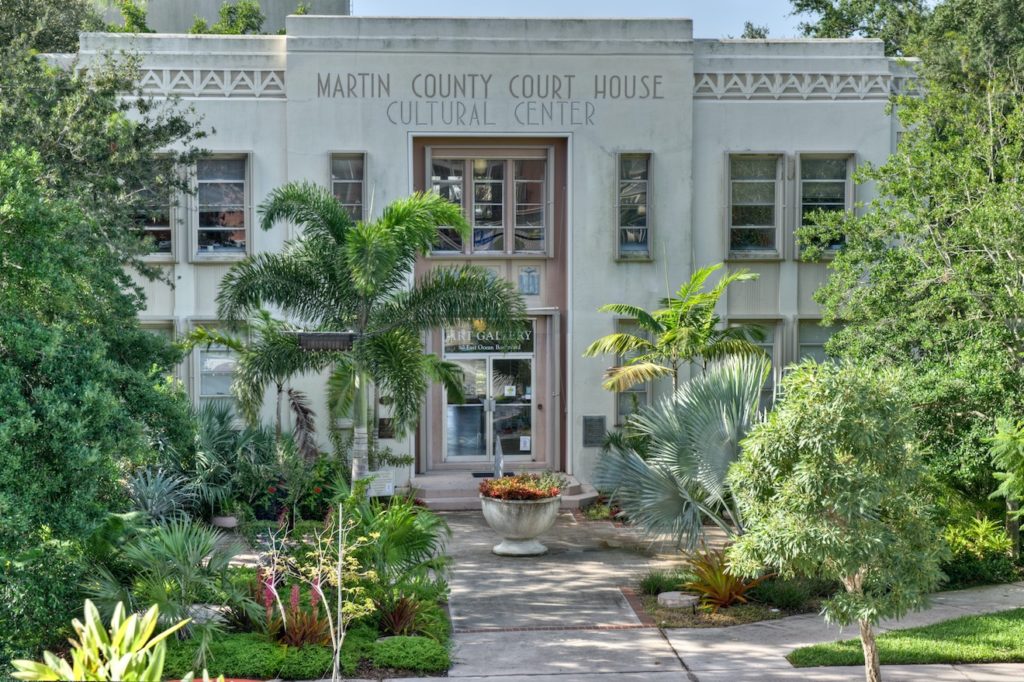 Peruse the Court House Cultural Center
The mission of MartinArts is to celebrate and share the arts with the Martin County community. The organization is headquartered in the historic Court House Cultural Center, which also houses an ever-changing gallery space. There's a rotating array of enticing exhibits throughout the year (which can be seen on their exhibition page), so there's always something new to see. MartinArts also offers a Virtual Gallery for art-lovers to appreciate from afar.
Stroll through the Artist Cottages of Downtown Jensen Beach
Nestled in the heart of charming Downtown Jensen Beach is the Artist Colony, a tangle of vibrant, tin-roofed cottages that have been converted into artist studios. Painter Karen Leffel-Massengill can often be found working at easel, creating one of her iconic Florida-inspired landscapes. Sally Eckman Roberts also has a studio, and her paintings of seahorses, dragonflies, herbs, and fruit have been transformed into all sort of home décor items, including rugs and pillows. It's a whimsical pocket worth checking out.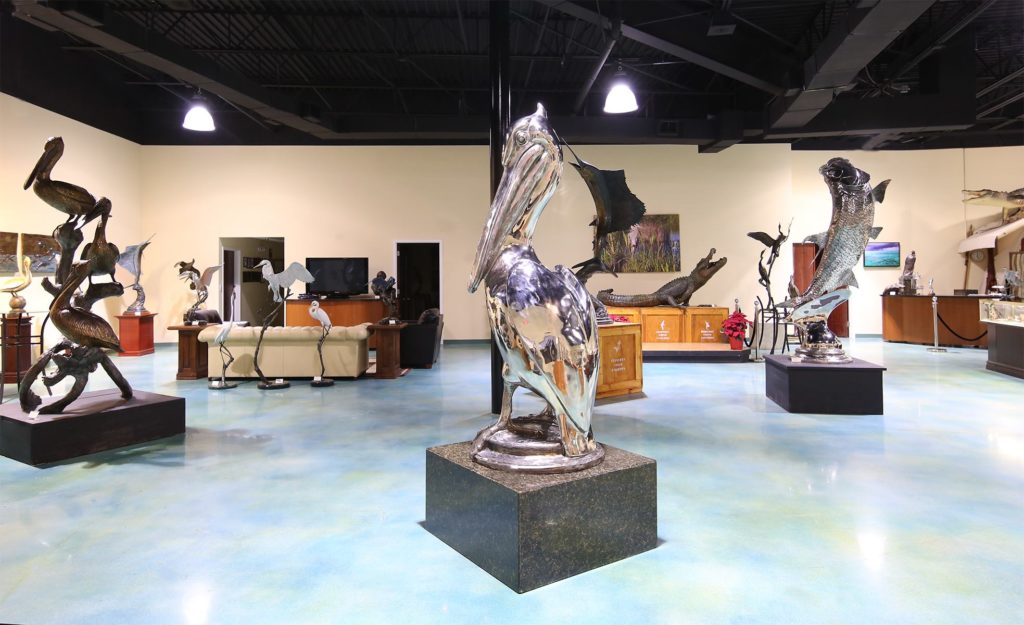 Visit the Geoffrey C. Smith Galleries
For more than 40 years world-famous naturalist, sculptor, painter and photographer Geoffrey C. Smith has been inspired to create award-winning artwork that depicts the immense diversity of wildlife with striking realism, deep emotion and a sense you are witnessing nature in action. Best known for his larger-than-life bronze sculptures, Martin County visitors can spot Smith's works on display at various public art instillations around town (for example, the dolphin fountain at the Children's Museum of the Treasure Coast, the sailfish fountain in downtown Stuart, and the manatee sculpture at the Florida Oceanographic Coastal Center). Stop into his gallery at 47 Osceola Street in downtown Stuart or explore his 7,000-square-foot studio and gallery space located at 4545 SE Dixie Highway in Port Salerno.
Explore the Elliott Museum
The Elliott Museum's mission is to inspire creativity through exhibitions and programs about art, history, and technology for the people who live in and visit the Treasure Coast of Florida. Named after prolific inventor Sterling Elliott, it hosts a dynamic and interactive collection of antique automobiles, vintage boats, and an impressive baseball collection. This Treasure Coast gem includes a deep trove of local histories and stories sure to delight all ages. There are also permanent art works by renowned painted James Hutchinson as well as rotating gallery spaces that change exhibits throughout the year. Find the museum located on the southernmost point of Hutchinson Island in Stuart Florida at the entrance to Stuart Beach.
Join a Hobe Sound Mural Tour
Hobe Sound is more than just a beautiful South Florida beach town. It's a tight-knit community full of creativity and local culture. There is no better proof of Hobe Sound's artistic flair than the stunning murals found scattered throughout the city. The goal of the Hobe Sound Murals Project is to beautify specific locations, enhance civic pride, encourage positive networking, and plant seeds for future cultural accomplishments. Since 2009, this "paint-the-town" initiative, (spearheaded by professional artist Nadia Utto) has provided creative opportunities for over 40 skilled regional artisans along with approximately 100 individual residents and visitors. New additions are regularly added to the ever-growing collection, but there are currently more than 25 murals. Visitors can stop by the Chamber of Commerce for a Mural Tour Map and spend the day on a self-guided tour walking, biking or driving around town trying to spot each of these lovely landmarks. Consider it a real-life scavenger hunt throughout the vibrant Hobe Sound community.
Visit the Palm Room Art Gallery and Artisans Boutique
The Martin Artisans Guild began exhibiting in November 2019, at The Palm Room in Harbour Bay Plaza in Sewall's Point. The beautiful gallery space hosts new art exhibitions every month during the year, and every other month during the summer, featuring talented member artists. Visitors can also stop by their boutique to shop wares created by the same great artists! Each year, they host the Martin County Open Studio Tour in March, where people can embark on a self-guided tour to over 20 local studios to meet local artists and interact with them while they work.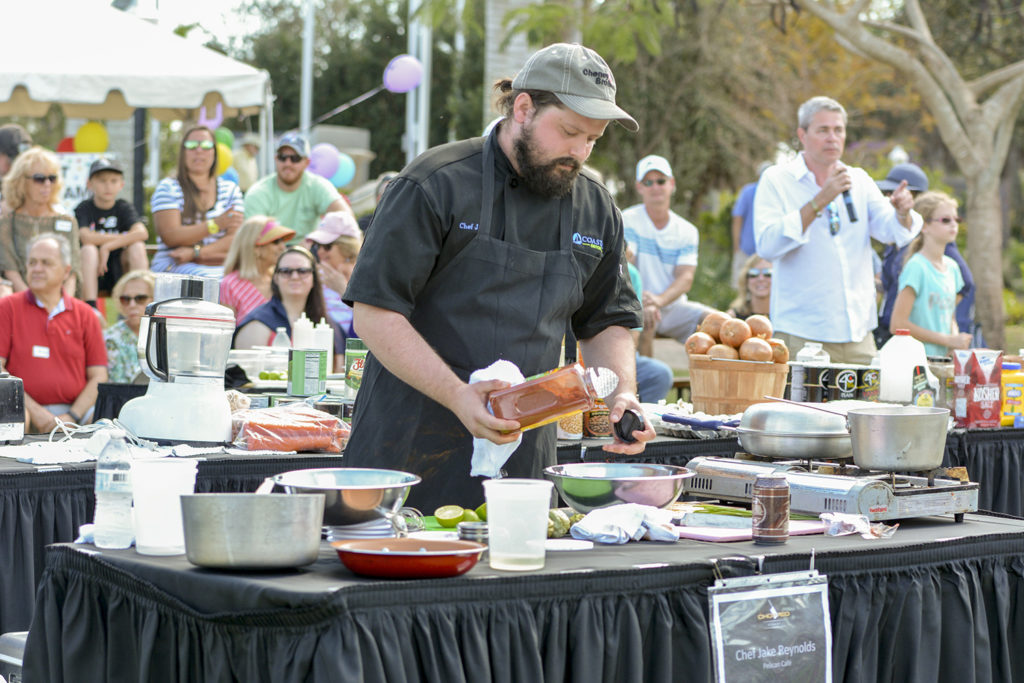 Experience an Outdoor Art Festival
Martin County hosts a range of arts-themed events and festivals throughout the year, from the award-winning ArtsFest organized by MartinArts, to the weekly Jammin' Jensen event in downtown Jensen Beach every Thursday night, which teems with local artists' displays, music, vendors, family entertainment, and more. Another prime example is the Annual Downtown Stuart Craft Fair, which brings together some of the best crafters in the nation with paintings, wooden sculptures, ceramics, one-of-a-kind jewelry, handmade baskets, and much more. The Discover Martin Events page highlights all of the upcoming happenings to keep visitors in the know.
Explore the Rare Earth Gallery
Rare Earth Gallery began as Rare Earth Pottery in 1976. The original owner, a master potter by the name of Dave Engesath, featured only pottery for its first 29 years. In 1991, the studio relocated to its current historic downtown Stuart site. It changed hands multiple times over the years but eventually evolved into Rare Earth Gallery, expanding the collection to include sculptures, paintings, glass art, woodworking, and more. The bright and airy gallery in Downtown Stuart has certainly become a destination for art in Martin County, and it has even been recognized as one of the top 10 places on the Treasure Coast to find sustainable gifts. Explore their virtual gallery online or pay them a visit at 41 SW Flagler Avenue.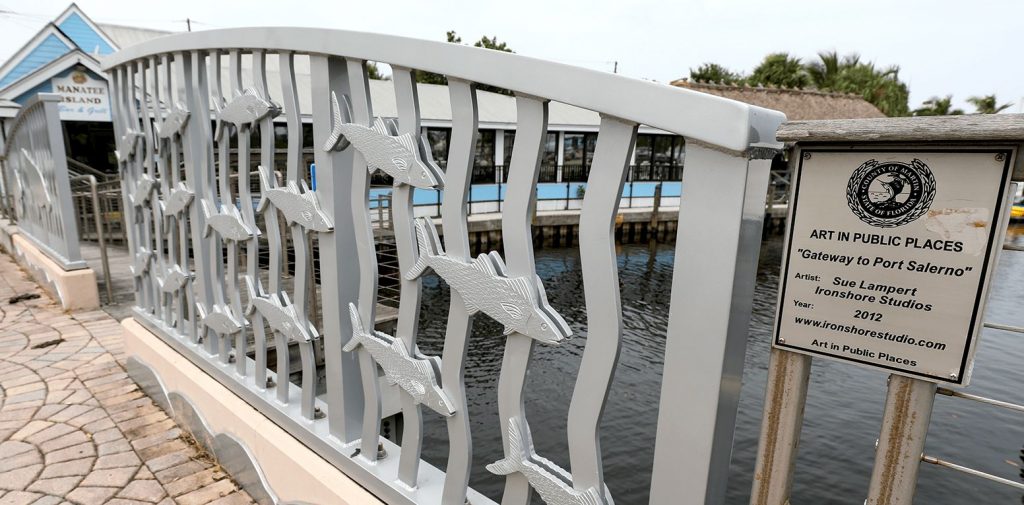 Follow Martin County's Art in Public Places Tour
Martin County is best known for our pristine, uncrowded beaches, but we also have a creative side marked by gorgeous artwork, dazzling sculptures, and impressive mural pieces. In 1997, Martin County established a public art program that included ongoing funding for new artworks for public appreciation. In 2017, the Martin County Board of County Commissioners appointed the Community Redevelopment Agency Board members as the Public Art Advisory Committee (PAAC). As of September 2018, sixteen sculptures, mobiles, stained glass windows, murals, mosaics, benches and photographs are now on display. To see some of the pieces with your own eyes, you can follow the Art in Public Places hotspots that are scattered throughout our vibrant communities. Let your imagination run wild as you drive from place to place taking in these glorious masterpieces. Some of the stops along the way include the Sea Life Murals of Sailfish Splash Waterpark in Stuart; the Poet Sculpture at the Hoke Library in Jensen Beach; and the Avian Muse Mobile on display at the Morgade Library in Port Salerno.